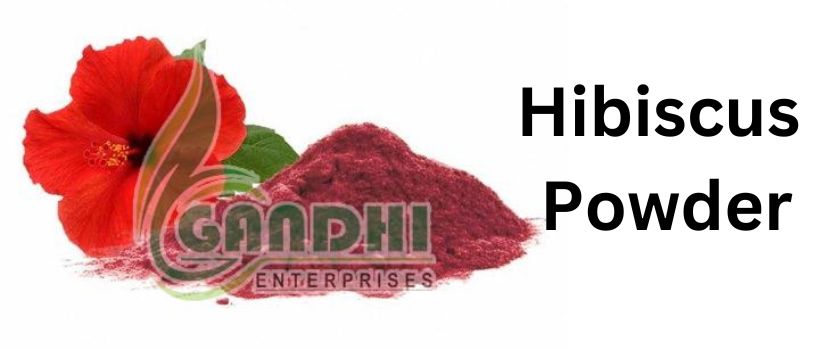 Who knew hibiscus powder from Hibiscus Powder Exporters has so many undiscovered uses and advantages for beauty? One of our favourite elements for maintaining the health of our skin and hair is this tropical plant. Our hibiscus powder is a rich crimson colour and is made from Hibiscus Roselle Petals (Hibiscus sabdariffa).
The Malvaceae family of plants includes the shrub known as Roselle or Hibiscus sabdariffa. This specific hibiscus cultivar, sometimes known as red sorrel, is popularly used for its beneficial effects on cosmetics and wellness. The roselle plant is well-known in the cosmetic and cosmetics industries for its anti-ageing benefits. It has been utilised to create clay masks, facial steams, body washes, etc.
Benefits of Hibiscus Powder
:
• Hibiscus roselle has phenolic components that assist in scavenging free radicals in your skin to lessen oxidative stress brought on by environmental damage.
• Since it is a naturally occurring substance of alpha-hydroxy acids, hibiscus has a reputation for being somewhat magical in the skin care industry (AHAs). As a result, hibiscus naturally exfoliates your skin and lessens comedones and hyperpigmentation. Additionally, this helps to improve the texture of the skin and lessen blackheads.
• Hibiscus powder's antioxidant content also aids in reducing skin irritation brought on by acne or other skin issues.
Other Benefits Of Hibiscus Powder:
• Slows Ageing –
Hibiscus aids in the repair of skin cells damaged by UV radiation, wounds, burns, and various environmental stresses. This flower, which is abundant in AHAs and BHAs, promotes skin suppleness. An increase in skin cell turnover due to the presence of anthocyanins keeps your skin looking healthy, young, and silky.
• Supports Collagen Production –
The hibiscus flower aids skin care regimens by promoting the body's generation of collagen. Alpha, beta, and citric acids are all abundant, along with vitamin C. These nutrients aid in preserving its natural glow for a longer period.
• Deep Hydration –
Do you have dry, scaly skin that itches? Well, being hydrated at all times may be the only solution, but maintaining hydration in your skin throughout the day may require some effort. The mucilage in hibiscus extract assists in keeping the skin moisturised for a longer time.
• Cleanses The Skin Pores –
Hibiscus flower extracts effectively exfoliate the skin by removing dead skin cells and excessive sebum on the skin thanks to saponins and Alpha Hydroxy Acids (AHAs). Additionally, it opens up the pores and nourishes the skin, giving it a noticeable softness, smoothness, and radiance.
• Soothes Inflammation –
Hibiscus helps lessen skin irritation since it is rich in the anti-inflammatory properties of beta-carotene. It also reduces redness and irritation. Anthocyanins, which are found in this flowering plant, reduce the oxidative stress brought on by free radicals in your skin.
• Faster Wound Healing –
When combined with a calming oil, hibiscus flower extracts help wounds heal more quickly by triggering the skin's creation of the fibronectin protein. It is a protein that aids in sealing the borders of the wound and hastens the healing process. Additionally, it encourages the spread of keratinocytes on the skin's surface, which increases skin moisture and cell renewal.
Hibiscus powder from Hibiscus Powder Exporters is effective at treating dark spots, blemishes, and hyperpigmentation because they contain strong antioxidants and Vitamin C. Malic acid, a naturally occurring acid, aids in skin exfoliation. Your skin appears youthful, healthy, hydrated, and radiant as a result.